SHDSL and SHDSL.bis Extended
Flexible solutions for Telecom and Industry.
GigaFlex SHDSL.bis Universal Transmission System
The FlexDSL GigaFlex universal transmission system was developed for mission-critical applications such as SCADA (Supervisory Control and Data Acquisition) or Telecontrol Networks. It can be operated along oil, gas and water pipelines, railways, highways and electrical lines. The FlexDSL GigaFlex units can be used in distribution networks connecting sensors and controllers, traffic lights, control signals and in video surveillance systems. It can connect electrical, gas and water meters with the measurement equipment.
In the heart of the FlexDSL GigaFlex unit is a modern high-performance Network Processor located that allows the integration in layer 2 and in layer 3 networks.
The FlexDSL GigaFlex unit was developed having security aspects in mind. Secured management protocols such as SSH, SFTP, HTTPS and SNMPv3 are implemented. It also supports RADIUS and 802.1x authentication for terminal devices. With an available separate software license, the GigaFlex unit is transformed to an IPSec-enabled VPN gateway.
Read More
MiniFlex SHDSL.bis Ethernet Extenders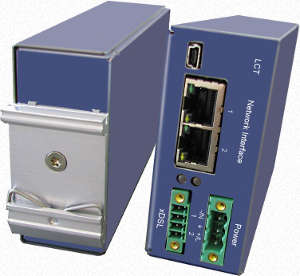 The MiniFlex SHDSL.bis Ethernet extenders designed for high reliable data transmission over copper pairs. They use highly approved in noise environment ITU-T G.991.2 (G.SHDSL.bis) standard to carry Ethernet data over 2 twisted pairs of copper cable.
Small size, hardended enclosure and wide input power range making MiniFlex SHDSL.bis Ethernet Extenders a perfect choice for mission-critical applications like Railway infrastructure, Smart Grid, Networks alongside Oil and Gas Pipelines as well as for Offshore communications.
Read More
FlexDSL Orion3 SHDSL.bis Modems and Repeaters
The FlexDSL Orion3 product family includes ITU-T G.991.2 (G.SHDSL.bis) Modems for Central Office and Customer Premises. FlexDSL Orion3 modem range supports DSL channel bonding for up to 4 copper pairs in order to achieve speeds up to 60.8 Mbps. They also can serve up to four independent directions. Besides E1 and Ethernet ports FlexDSL Orion3 supports Nx64 (V.35, V.36, X.21) and RS-232/485 interfaces. Together with Remote Power and repeater support the product flexibility makes FlexDSL Orion3 SHDSL.bis modems a perfect solution for wide range of applications where TDM and IP services must be transmitted over copper wires.
FlexDSL Orion3 products are compatible with their forerunners FlexDSL Orion2 and FlexDSL Orion modems as well as with MiniFlex SHDSL.bis Ethernet Extenders.
Specially designed firmware turns selected members of FlexDSL Orion3 family into Interface converters or even into TDMoIP/TDMoE pseudo-wire devices.
Read More
FlexDSL Orion2 SHDSL.bis Modems and Repeaters
The FlexDSL Orion 2 SHDSL.bis product family offers a broad range of products, which are based on the latest SHDSL.bis standard. The FlexDSL Orion 2 supports TC-PAM8, TC-PAM16, and the TC-PAM32 line coding. The support of these line codes ensures spectrum compatibility with existing DSL equipment, that is already installed, in order to protect customer investments, while at the same time providing an upgrade path to the newest DSL technologies.
FlexDSL Orion2 modems support E1 and Ethernet ports, Remote Power and Repeaters.
Read More
FlexDSL Orion SHDSL Modems and Repeaters
The Orion product family has been introduced by FlexDSL in the year 2001. It was one of the first modems on the market that supported new ITU-T G.991.2 (G.SHDSL) standard. FlexDSL Orion family contains modems for Central Office and for Customer Premises. G.SHDSL repeaters are present as well. FlexDSL still produce several modems from Orion family.
FlexDSL Orion modems support E1 and Nx64 ports, Remote Power and Repeaters.
Read More
SHDSL.bis Repeater
The FlexDSL Orion3, Orion2 or Orion repeaters designed for SHDSL distance extension or for increasing of the data bandwidth. Selected repeater models support Ethernet add-drop and and dry loops. Repeaters accept remote power or can be powered locally. FlexDSL produces SHDSL repeaters in various enclosures, even for direct placement under ground.
FlexDSL does firmware adaptation for the purpose of obtaining compatibility with modems produced by third-parties.