Voice over IP Products
Industrial VoIP Gateways and Serial Converters.
FlexCON VoIP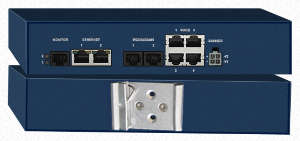 FlexCON VoIP Industrial Gateway has been inspired by demands of mission-critical applications such as Smart Grid, Railway Infrastructure, Oil and Gas transportation and distribution, Smart Metering and Offshore communications.
FlexCON VoIP assembled in robust metallic enclosure and allows voice (FXS, FXO and VF) as well as Serial (RS-232/RS-485) data transmission over packet networks.
Read More
MiniFlex VoIP Gateways
The MiniFlex VoIP Gateways append voice transmission capabilities to the field-proven MinFlex family of products.
MiniFlex VoIP Gateways supports two FXS, two FXO or two VF (Voice Frequency) channels with E&M type V signaling. They are assembled in compact and robust metallic enclosure and accepts wide range of DC or AC input power.
MiniFlex VoIP compatible with FlexCON VoIP or with MiniFlex Line Cards. It is also interoperable with third-party SIP-based gateways or with Softswitch.
Read More