Industrial Managed Ethernet Switches
Modular and Integrated Solutions for Packet-based Networks.
Modular Ethernet Switches
The FlexDSL Modular Switches were designed for industries such as energy sector, including generation, transmission and distribution, railways, motorways, gas and oil utilities, smart factories and government networks.
Thanks to their modular design, the FlexDSL Switches allow smooth migration from the legacy technologies to the modern high-speed secured packet-based networks.
Small size, low power consumption and the full support of the MiniFlex Family Line Cards make the FlexDSL Modular Switches a perfect choice for customers who value the equipment availability and flexibility.
Read More
Standalone Ethernet Switches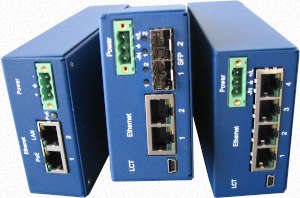 The FlexDSL Standalone Switches are small and energy-effective solution for mission-critical applications.
They support 10/100/1000Base-TX and Electrical Ethernet and contain up to two SFP cages for 100/1000Base-FX Ethernet transmission over Fiber links.
The FlexDSL Standalone Switches are compatible with the MiniFlex IP Multiplexer Platform and can be used together with it in various topologies.
Read More