Industrial Modular Ethernet Swithches
Flexible solutions for modern and legacy networks.
MiniFlex Rack for 4 Linecards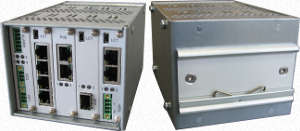 MF-MR-RAIL-2U4S,V2
The MiniFlex modular Switch allows Utilities (Railways, Gas/Oil distribution, Roads, Offshore) smooth migration from existing TDM and Serial based networks (E1, RS-232/422/485) to packet based (Gigabit Ethernet and IP).
The MiniFlex 2U modular Switch for 4 line cards designed for installation at places where space is limited and where environment conditions are harsh.
4 expansion slots of the Switch designed for tributary cards with Serial interfaces, Dry Loops or for Interface Extenders over Fiber or Copper. Dual port PoE-source card can be installed into one slot as well.
If optional MF-GSW-SRL-8Eth,V2 is installed into the first slot, it aggregates all Gigabit Ethernet interfaces from other three cards into single uplink, otherwise four tributary cards can either work without interconnections, or interconnect one with another in pairs through the backplane.
MiniFlex Rack for 2 Linecards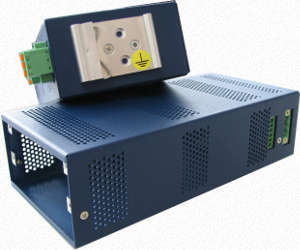 MF-DU-RAIL-2U2S-xxx,V2
The compact MiniFlex modular Switch for two line cards is the tiny enclosure with great possibilities. It should be mounted on standard DIN-Rail mechanics or on a wall or other surface.
Depending on a model the compact MiniFlex modular Switch can be powered either from -12VDC or -24/48VDC or from ~110/220VAC power source.
Thanks to the build-in backplane any two MiniFlex Tributary Line cards can interconnect one with another over Gigabit Ethernet interface without Ethernet Switch or external patchcord. Therefore the following applications are possible to have:
SHDSL + Serial (4x RS-232) or 1xRS-232/422/485
Fiber + Serial (4x RS-232) or 1xRS-232/422/485
SHDSL + Fiber
SHDSL + Fiber + Serial 1xRS-232/422/485
SHDSL + PoE
SHDSL + Voice (FXO/FXS/VF)
Fiber + PoE
Fiber + Voice (FXO/FXS/VF)
PoE + Serial (4x RS-232) or 1xRS-232/422/485
and many more
Tributary Line Cards
For supported Line Card options click on the button below.
Line Cards